Introducing The Sun Center at Lake Oconee Eye Care
GREENSBORO, GA (September 17, 2021)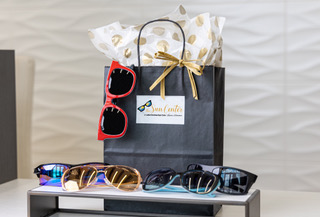 Lake Oconee Eye Care Vision Source announces the newest addition to their practice, The Sun Center at Lake Oconee Eye Care. Fully stocked with a wide array of prescription and nonprescription sunglasses from the brands customers know and love, The Sun Center completes Lake Oconee Eye Care's retail space.
While many Lake Country residents have resolved to long drives to bigger cities to shop their favorite name brands, they no longer need to! With The Sun Center as a local option, patients and customers can shop brands like Oakley, Maui Jim, Costa, Ray Bans and more without the hassle of leaving their own backyard. "When we decided to move our practice to our new location on Lake Oconee Parkway, it was important to us to really expand our retail space for our customers," said Dr. Susan Lee, Optometrist and Partner. "We wanted to provide a space that was comfortable and really invited customers to peruse our vast selection of sunglasses and ophthalmics. We also were committed to providing variety in styles and price points to have something that appealed to everyone. I couldn't be happier with how it turned out, it's exactly what we had envisioned!" Dr. Lee exclaimed. The retail space requires no appointment, and nonprescription sunglasses are available the same day, so walk-ins are always welcome to shop their favorite sunglass brands.
"We are very excited about the addition of The Sun Center to Lake Oconee Eye Care's already expansive selection of frames. I believe anyone and everyone will find what they are looking for, right here in the heart of Lake Oconee," says Dr. John Titak, Optometrist and Partner.
About Lake Oconee Eye Care:
Lake Oconee Eye Care is a member of Vision Source, a group of over 3000 of the top practices in North America. Vision Source is the largest optical retailer in the United States. As a member of Vision Source, Lake Oconee Eye Care is able to offer the best products and at the best price. The savings are passed on to their patients. To learn more about Lake Oconee Eye Care-Vision Source or schedule an appointment.