COVID-19 Office Update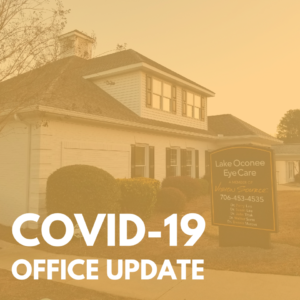 To Our Lake Oconee Eye Care Family,
We hope this finds you all safe and doing well during this unprecedented time in our nation's history. In order to serve you and our community as a whole, we made our best effort to remain open as long as possible, however, in compliance with CDC guidelines and following Governor Brian Kemp's press conference, we have made the decision to reschedule all appointments until April 6th. If you have an appointment scheduled during this time period a member of our team will be reaching out to you to reschedule your appointment.
We will have a team member on-site from 8:30 am to 12:30 pm to answer phone calls and for glasses and contact lens-related issues. The doors will be locked so we ask that you call the office upon arrival at the number below to be given access. Drs. Perry and Susan Lee will also be available for emergency issues both during the week and after hours. Contact us at 706.453.4535 and you will be directed to alternate emergency numbers.
The situation with COVID 19 continues to change on a daily basis and we will monitor these changes and do what is necessary to keep you, our family, safe. At the same time, keeping your eyes healthy in 2020 remains our focus. If you need anything from the Lake Oconee Eye Care team, please do not hesitate to reach out. We look forward to seeing you soon.
Our thoughts and prayers are with you – be well,
Drs. Perry and Susan Lee & Dr. John Titak