Lake Oconee Eye Care Celebrates Pamela Jones' Fifth Anniversary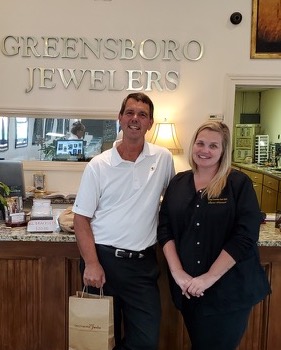 GREENSBORO, GA (October 4, 2019) – Diamonds really are a girl's best friend, and the doctors at Lake Oconee Eye Care know it. The Leadership Team at Lake Oconee Eye Care Vision Source treated Pamela Jones to a special gift from Greensboro Jewelers located on Main Street in Historic Greensboro to celebrate her fifth anniversary.
Pictured Left to Right: Mark Blanton and Pamela JonesPamela Jones is Lake Oconee Eye Care's Business Office Supervisor. She has served 5 years with Lake Oconee Eye Care. "I have known all the doctors since I was in high school and I previously work with them back then," says Pamela. "One of the things I love most about working at Lake Oconee Eye Care is our team. Everyone works so hard to mark sure each patient gets the best possible experience and care. I also love how our doctors invest their time in us and make sure we learn everything we can."
Pamela was given a gift card and enjoyed a shopping trip to Greensboro Jewelers. Mark Blanton, owner of Greensboro Jewelers, helped select her jewelry gift from the Lake Oconee Eye Care team.
About Lake Oconee Eye Care:
Lake Oconee Eye Care is a member of Vision Source, a group of over 3000 of the top practices in North America. Vision Source is the largest optical retailer in the United States. As a member of Vision Source, Lake Oconee Eye care is able offers the best products and at the best price. The savings are passed on to their patients. Click to learn more about Lake Oconee Eye Care- Vision Source or schedule an appointment.