Flip Out for Shades Winner Announced
Benefiting the Pete Nance Boys & Girls Club Cheerleading Program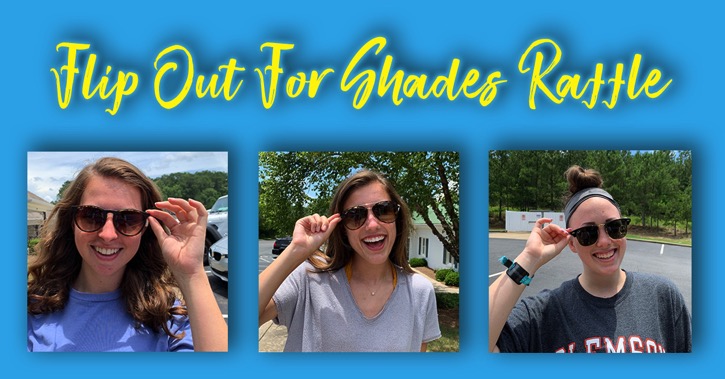 GREENSBORO, GA (August 19, 2019) – David Write is the lucky winner of Lake Oconee Eye Care's Flip Out For Shades Raffle. Write will received a stylish pair of sunglasses provided by Lake Oconee Eye Care.
The Flip Out for Shades Raffle, held Friday, August 9, is the result of the efforts of 9 Lake Oconee Academy (LOA) students: Daryn Minster, Tamia Peaks, Kyliah Lockhart, Lauren Johnson, Ella Darby, Katie Ciavola, Lili Gayle, Olivia Lee, and Madison Cantrell. Last spring, these students began a cheer program for a few members of the Pete Nance Boys & Girls Club (PNC) out of Greensboro, GA. They volunteer their time and visit the club weekly to teach basic cheer stunts, tumbling, jumps, and dance. The program started with just 15 PNC members and has grown to almost 30 club members from 5-13 year olds.
PNC was in need of tumble and training/ safety equipment for this school year. To help raise money for the equipment, the 9 LOA students decided to host a fundraiser and partnered with Lake Oconee Eye Care to make it happen.
Lake Oconee Eye Care provided 5 pairs of sunglasses for 1 lucky raffle winner to choose from. Tickets were $10 a piece and were sold at Lake Oconee Eye Care and by the LOA students. The drawing was held Friday, August 9 via Facebook Live and David Write was drawn as the lucky winner.
"I am so proud of these students. They came up with the idea of sharing their talents and knowledge of cheer and tumble all on their own. When they came to me with the idea for the fundraiser, we thought it was a great idea and we were happy to contribute to the cause," said Dr. Susan Lee of Lake Oconee Eye Care.
The LOA students were able to raise $1,872.00 for PNC to purchase the needed equipment to continue and enhance the program created and maintained by LOA students.
About Lake Oconee Eye Care:
Lake Oconee Eye Care is a member of Vision Source, a group of over 3000 of the top practices in North America. Vision Source is the largest optical retailer in the United States. As a member of Vision Source, Lake Oconee Eye care is able offers the best products and at the best price. The savings are passed on to their patients. To learn more about Lake Oconee Eye Care- Vision Source or schedule an appointment, visit Lake Oconee Eye Care