The Brands You Love at Your Fingertips
By: Dr. Susan Lee
As a consumer myself, I enjoy having a wide selection of clothing, shoes, jewelry or any retail good, from which to choose when making a purchase. This includes fashion eyewear, and this is where Lake Oconee Eye Care makes your buying experience an easy and fun one.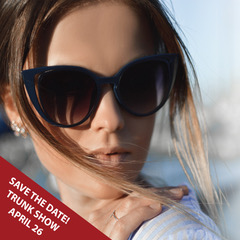 Lake Oconee Eye Care provides the brands you love in both sunglasses and ophthalmic frames, including: Michael Kors, Ray Ban, Tory Burch and Bobbi Brown, as well as high-end designer frames like Gucci and Prada. Our practice has a vast assortment of men's frames, a group that is often over-looked in the "fashion" world. We stock a large selection of Oakley sunglasses for our sports enthusiasts, and Costa Del Mar and Maui Jim for our water-lovers.
To showcase our wide variety, Lake Oconee Eye Care will be hosting an exclusive trunk show on Friday, April 26th to feature some of our most popular lines – Silhouette, Maui Jim, Prada and Tory Burch.
Silhouette brand frames are making a huge splash on the runways and with celebrities. These frames are touted as the most lightweight frames in the industry, but they are not just about function any more. In hundreds of color and shape combinations, Silhouette frames are being appreciated in magazines, on movie screens, in fashion blogs and on celebrities everywhere.
Maui Jim got its start in 1980 as a small company selling sunglasses on Ka'anapali beach in Lahaina, Maui. Seeing a need in the market for technology that could combat intense glare and harmful UV rays while bringing the brilliant colors of the island to life, they engineered the revolutionary PolarizedPlus2® lens. All their sunglasses are polarized and protect from 100% of UVA and UVB rays, which is perfect for Lake Oconee.
Prada and Tory Burch will also be featured at our spring trunk show. These designers need no introduction; both Prada and Tory Burch bring the same beauty and quality to their frame and sunglass lines that they bring to their shoes, purses and clothing.
Expert representatives from each line will be on-hand during the spring trunk show to showcase new products and answer questions. Our team at Lake Oconee Eye Care is spicing up the fun with cash prizes, and trunk-show-only special offers on a first come, limited basis. We are proud to bring the selection of Atlanta to Georgia's Lake Country.
As always, we appreciate your business and the opportunity to serve the community for the past 18 years. Save the date for April 26th, and please feel free to contact us any time with questions, comments or concerns at hello@LakeOconeeEyeCare.com or call 706.453.4535.